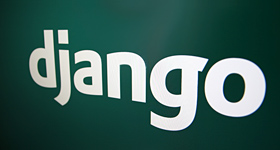 This is official tutorial. But it didn't work for me for 100 %. But there is some useful information on wsgi and daemon process that should be created.
There is a good tutorial, that I followed and it actually works. But I decided to write my own post with instructions for my personal project:
First we enter the production server via SSL and create a virtual environment there:
Then we activate it:
Check the Django version. It must be the same as in your local server:
python

-

c

"import django; print(django.get_version())"
Save somewhere a path to a Django project:
/

root

/

www

/

den

.

ladby

.

ru

/

public

/

common

-

app

-

server

/

app_server
Your path will be different.
This is an example of a sites-available/*.conf file setting to run Django with WSGI: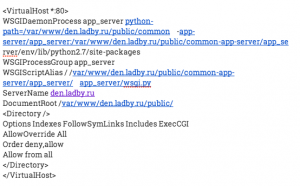 Here app_server is the name of my Django project or you can name it a site. But in my case it is not site but server for a mobile application.
Python and Django version on server and virtual environment may be different. You should do everything inside virtual environments with the same versions on local and production servers.